Home + Solutions + Collaboration + Cloud Collaboration
Next-Level Collaboration as a Service

Your time and your team are valuable. So is your network. There's an easy, reliable and cost-optimized way to better utilize the investment you're making in both.
Hosted in the world class Cisco Webex data centers, and managed by ePlus, Cloud Collaboration is a cloud-based calling solution, built on the strength and functionality of Cisco's Unified Communications Manager – Cloud Platform.
ePlus Cloud Collaboration allows organizations to alleviate day-to-day management, monitoring and cost associated with on-premise systems and migrate to a seamless, feature-rich cloud experience in an easy-to-consume subscription model with predictable cost.
Whether you're migrating from an existing on-premise Cisco Call Manager solution, or any other solution, ePlus Cloud Collaboration will improve the collaboration experience for your users, increase service quality and reliability, reduce overhead costs and reliance on in-house resources and provide the high-performance capabilities and flexibility that you can only get from a cloud-based solution.
Offered as a service, the management and monitoring of routine core calling and collaboration functions is taken off your plate while simultaneously increasing predictability and reducing cost. Leveraging ePlus Cloud Collaboration eliminates your need to pay for and reserve physical space in your data center, manually conduct updates, increase fluctuating power requirements and manage multiple service providers. We do it all for you.
Cloud Collaboration is provided through a secure network of five operations centers, staffed by a team who is "always on" watching and monitoring your system, identifying and remediating problems before you have to call and ensuring updates are made in real time.


ESG Research on Cloud Collaboration and Collaboration Services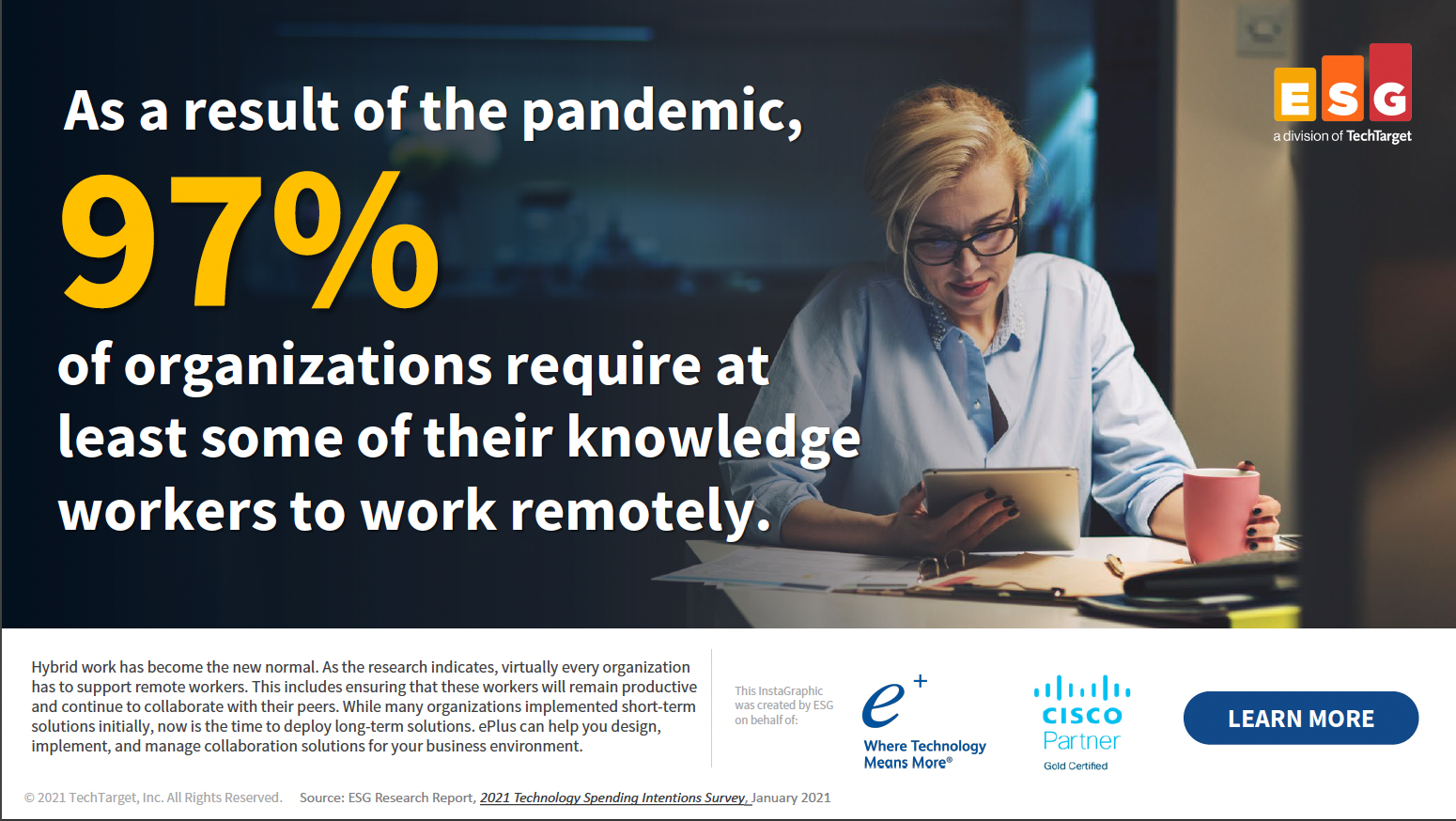 Supporting Hybrid Work with Cloud Collaboration
According to ESG research, top reported impact of the pandemic was the broader use of online collaboration tools. That means it's probably time to reassess your solutions to reduce complexity, increase efficiency, and deliver a seamless experience for on-site and remote workers alike. Read the full whitepaper or watch the video to learn more.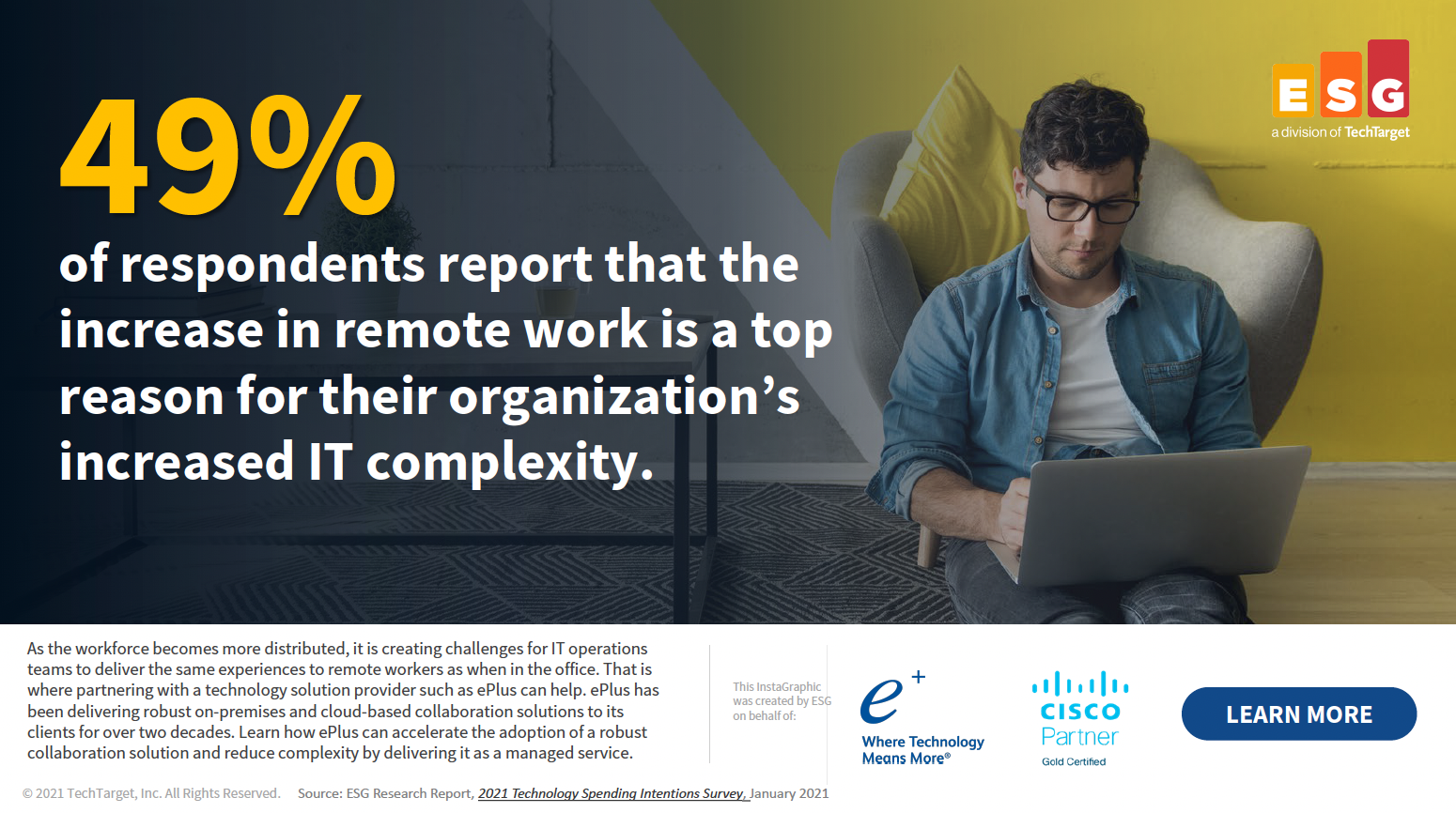 Managed UC Collaboration Services
A recent ESG research study shows that 49% of respondents say the increase in remote work is a top reason for their organizations increased IT complexity. Read the full whitepaper or watch the video to learn more.

EBOOK + COLLABORATION
ePlus Cloud Collaboration
Easy, reliable and cost-optimized collaboration. Learn more about how you can get all the collaboration benefits of Cisco Webex Cloud delivered as a service and managed by ePlus Managed Services.

Protect Your Investment

ePlus Cloud Collaboration is fully compatible with existing Cisco hardware investments. If you have already purchased Cisco handsets, telepresence units, and other on-premise equipment, your current technology will operate as they always have. No need for costly hardware upgrades.


Keep Your Voice Carrier (or not)

Want to keep your existing voice carrier? You can. Want to switch to another provider? You can do that, too. With ePlus Cloud Collaboration, you have options. You select the carrier services you want to use and maintain control to keep this expense competitive with market.


Host Complimentary Applications

ePlus Cloud Collaboration Platform also enables you to host complimentary applications, such as Cisco Contact Center. Hosted in the same cloud data center, this allows you to create the full, feature rich seamless experience for your end users.