Carrier Expense Management
Is your carrier spend spiraling out of control? Are you being billed exactly for what you contracted? Are you being taxed correctly by the providers? Are you able to properly audit each invoice on a monthly basis and still avoid late fees? Do you have a single pane of glass to manage all of your MRR business?
ePlus can help! Our Carrier Expense Management offering is a fully-managed white glove solution. We will:
Assess your inventory (every site, every service, every contract, every provider, every penny)
Establish EDI with all of your providers, to allow one pane of glass for all of your services in our management portal for global contract visibility
Audit past invoices (6-12 months depending on the provider) to identify any missed billings and incorrect taxes, and then start the rebate process.
Audit all current services to identify any rate corrections, locations, or services billing in error
Begin a consolidated billing process and audit all new invoices
Establish a bill pay account (you fund the account, we'll pay your invoices on time)
Build a three to five year roadmap for vendor consolidation and technology refresh to identify significant cost savings for your organization moving forward
Make informed recommendations for carrier consolidation, new technologies, and cost savings
ePlus Carrier Expense Management Portal
For any site globally, conveniently view all telecom circuit inventory information:
Location site address
Carrier/provider
Circuit type (such as dedicated Internet)
Monthly recurring and non-recurring charges (bandwidth, term length, and contract start/end dates)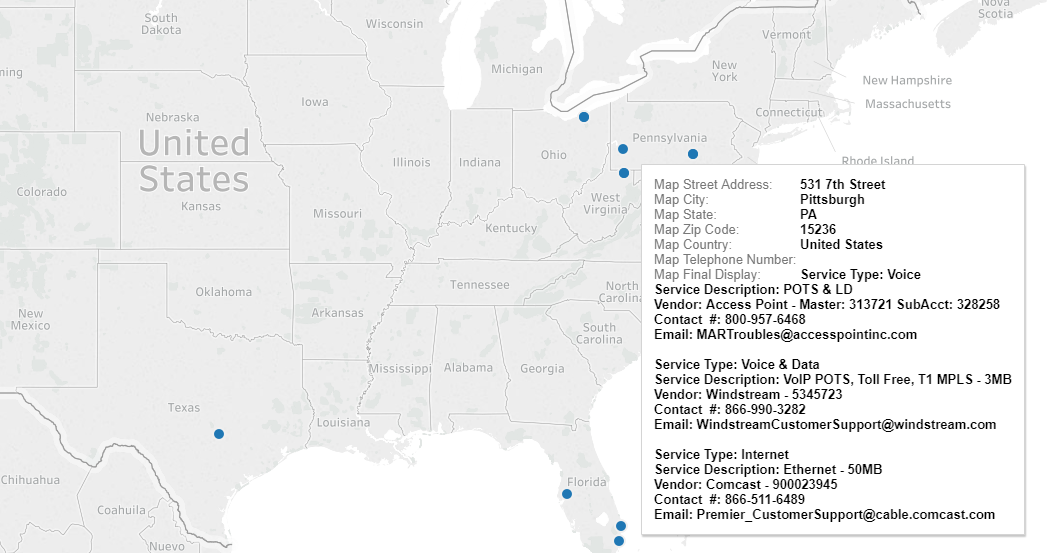 Ready to get started?
For more information about putting ePlus' connectivity team to work for you to significantly improve carrier expense management, contact us today.