ePlus recently acquired ABS Technology and we are committed to maintaining the local support and customer-first approach ABS is known for, now with access to additional ePlus resources and expertise. Built upon a history of success, our focus is making technology mean more—and do more—to drive positive business outcomes for our customers.
More Innovation. More Progress. More Results.
Technology evolves quickly, and every new development exposes our customers to new opportunities and new challenges. ePlus is the partner that can help them navigate with confidence and agility.
Solutions & Services Expertise
From Cloud, Security and AI to Digitization and Managed Services, we help organizations navigate their technology options – and then design, orchestrate and seamlessly implement solutions. Backed by a staff of more than 1,500 employees, 650 of whom are certified on the latest technologies from industry-leading IT companies, ePlus provides unparalleled guidance and expertise that allows customers to maximize the return on their technology investments. Whether as a trusted advisor, a hands-on extension of their team, a trainer, a staffing partner or in a capacity to proactively monitor and manage their networks: we are at the front lines…helping them forward focus in a way only ePlus can.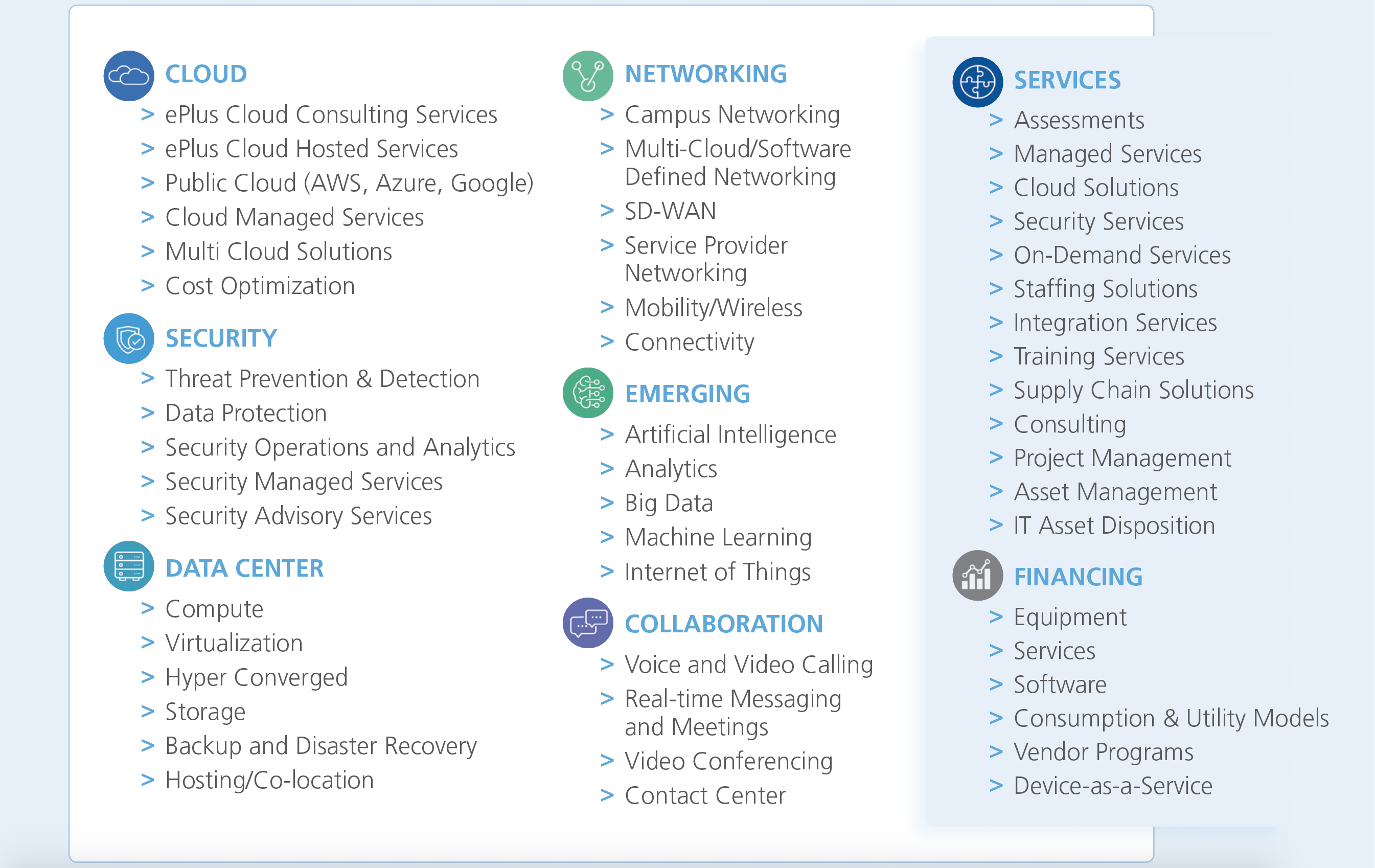 More Partners
ePlus holds long-standing and successful technology partnerships, and we look forward to extending our relationships in the Mid-Atlantic and Southeast. We're excited to add the expanded expertise and engineering delivery capabilities of the robust ABS team to the ePlus roster.
Our customers benefit from our deep partnerships with leading technology providers, enabling us to create solutions that connect the dots between IT investments and business outcomes so technology means more, and does more, for them.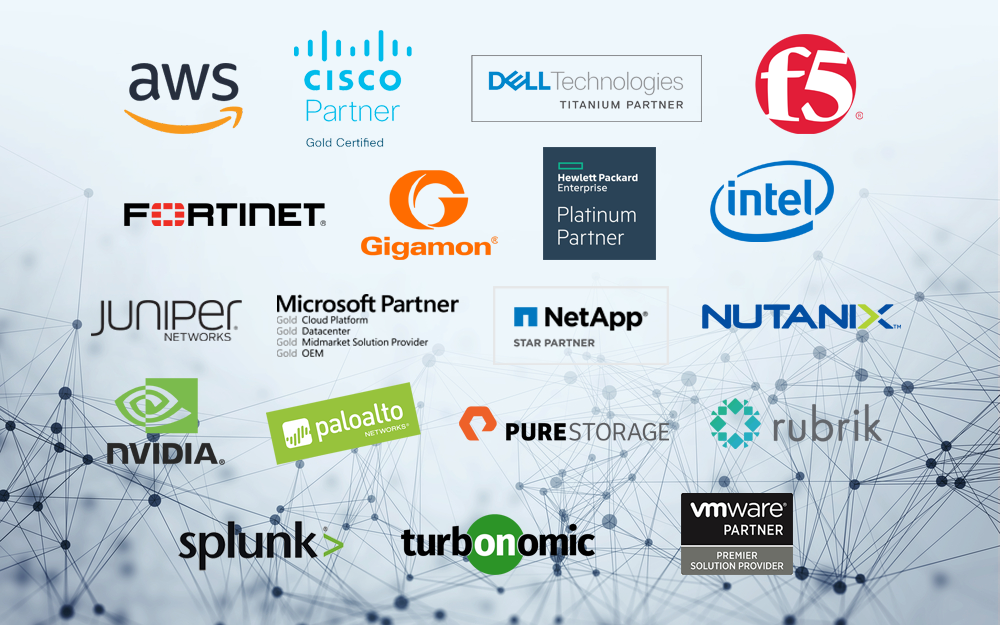 More Technical Resources
• Team of 650+ technical and support resources
• 1700 certifications by the top IT manufacturers in the world

• 3 Integration Centers
• 4 Managed Services Centers
Creating Positive Business Outcomes
Knowing how to harness the power of technology to attain more meaningful business impact is what ePlus does best. We believe our customers choose us for their complex IT infrastructure needs based on our track record of delivering best-of-breed solutions, value-added services, and close relationships with both established and emerging vendors - all of which enables us to achieve positive business outcomes for organizations around the world. We've listed just a few of their success stories below.
Accelerating Growth through Transformative Technology
A large children's hospital trusted ePlus to modernize a costly legacy infrastructure that was causing interruption of service, poor patient experience and inconsistent security. Implementing the transformative technology has helped the hospital accelerate growth, cut overall costs and mitigate risk.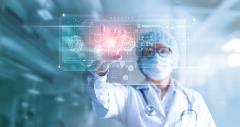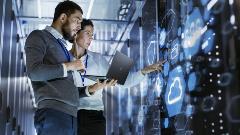 Laying Foundation for the Future
One of the largest electrical and lighting contractors in the U.S. relied on ePlus to provide end-to-end training, design, and implementation of an Azure Foundation to enable future workloads. Along with the flexibility and ability to leverage services only available in public cloud, ePlus enabled the customer to deliver internal training globally for a lower cost and with a better user experience for effective future cloud deployments.

Managing the Details, from A to Z
One of the nation's largest beverage producers tapped ePlus for an A to Z build out and management of its IT team and all its IT systems, including network, storage, helpdesk, wireless and more. Relying on ePlus Managed Services has enabled the customer to access talented IT staff, eliminate antiquated network services, and build from scratch an IT organization capable of scaling with its growth.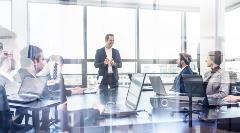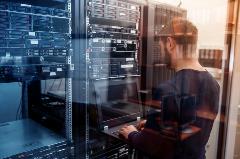 Quickly Filling High-Demand IT Roles
A well-known charitable organization and long-time partner turned to ePlus to fill open technology roles with vetted and pre-qualified candidates. A competitive job market made the search process lengthy, and ePlus' ability to fill specialized roles in a timely manner made recruiting more efficient while freeing up staff to get back to the important work: saving lives.
Watch the role ePlus plays in helping Be The Match maintain high-performing network, security, and server systems to support its vision for patients and customers.


Watch the video
Watch how Freudenberg IT leverages the long-standing partnership of ePlus and HPE to deploy technology that allows it to innovate and provide resilient cloud services to clients.


Watch the video
Watch our team of engineers and architects at our Sterling, VA facility explain how ePlus can build out your entire environment before it arrives at your facility—regardless of complexity or manufacturer.
Watch the video
Successful Customer Experiences Drive Innovation
Check out our success across a wide range of industries and you'll understand why ePlus excels at crafting sustainable IT roadmaps that drive meaningful business outcomes.
Read more of our Customer Success Stories
Forward Focused Knowledge
Our expertise runs across the entire technology landscape – from staples like Cloud and Security to emerging technologies such as Artificial Intelligence and Machine Learning. Many of our employees carry certifications in the latest technologies, and as such, the value we provide is immeasurable and comes in many forms. From hands-on implementation, training, workshops and assessments to consultation and best practices - our knowledge is vast and our perspective comes from years of experience that we apply to every engagement.
We regularly publish blogs and podcasts that address issues top of mind for our customers. Visit https://eplus.com/esights to check them out.
The eSights Blog is a collection of articles surrounding industry trends, in-demand technologies, and IT challenges, ePlus staff share their insights and advice on navigating today's constantly-changing IT landscape.
Read the Blog
Join ePlus as we explore how to harness the power of today's emerging, transformative technologies by tapping the expertise of our team and other industry experts. Listen in from eplus.com/podcast or find us on iTunes.
Listen to the Podcast
ePlus Gives Back

Corporate social responsibility remains an important part of our culture. As such, we continue to focus efforts around supporting the communities in which we live and work.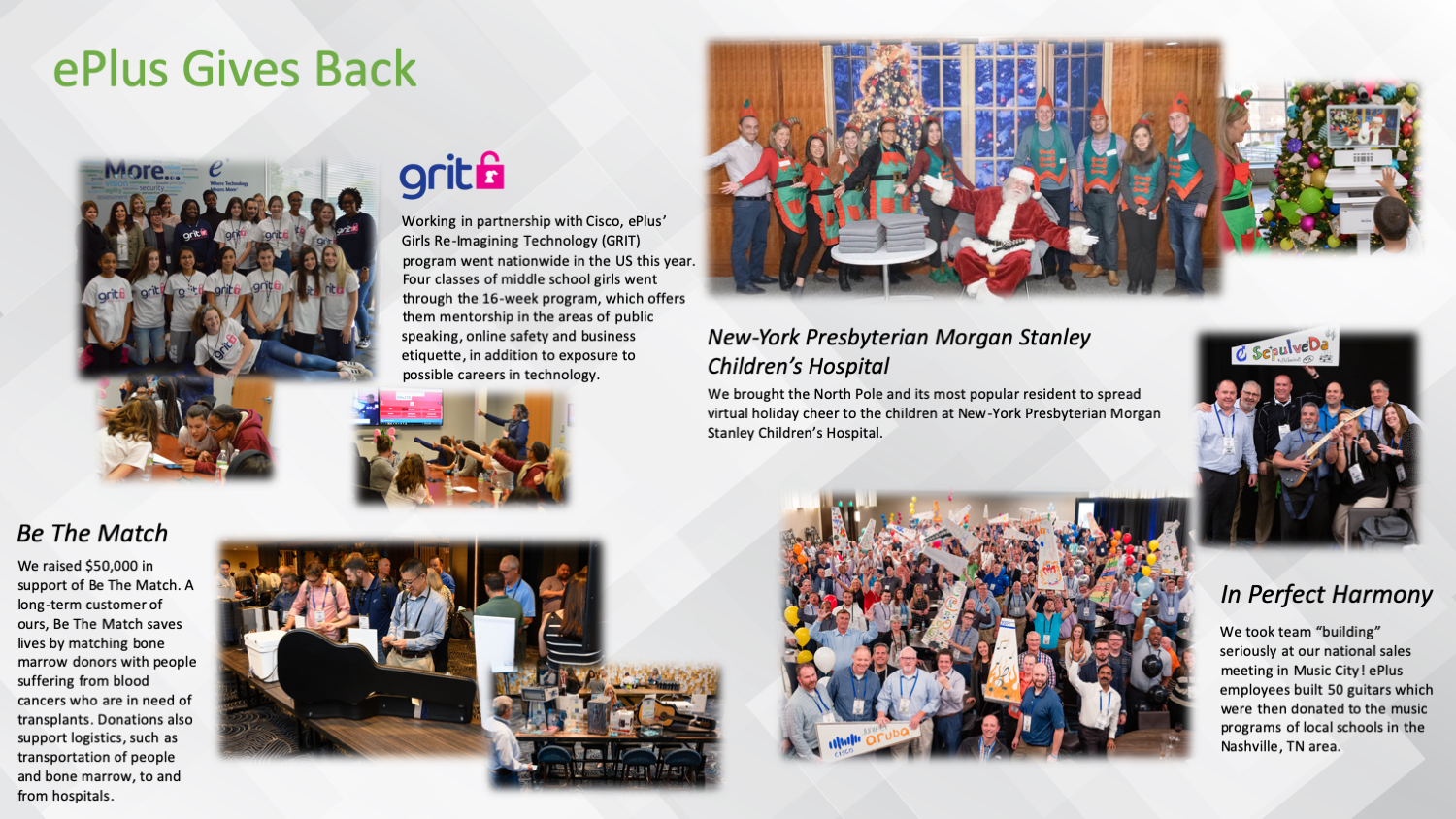 Adding the ABS team to the ePlus roster complements our capabilities and puts us in a position to more effectively deliver innovative, customized technology solutions and certified expertise in the mid-Atlantic region. We look forward to providing both existing ePlus and ABS customers in this region with superior levels of customer service and support.
If you have any questions about ePlus or ABS Technology let us know!